Be inspired by our users who exercises despite Multiple Sclerosis.
"Are you living with multiple sclerosis and looking to improve your health and well-being?
Research shows that regular physical activity can have meaningful benefits for individuals with MS.
By incorporating behavior change theory into the design of exercise programs and promotion efforts, we can help increase participation in physical activity among people with MS.
Using our exercisers  promotes healthy habits and increase your physical activity level and capabilities.

Don't let your MS hold you back - take control of your health and start doing regular physical activity .Exercising with our Combi Bike Plus works even for severely disabled people in wheelchairs and for most people who has reduced mobility due to Multiple Sclerosis."
Anders Bonde Jensen exercise with Combi Bike Plus mobility exerciser despite not being able to walk due to sclerosis. He uses it sitting in his wheelchair, and the daily exercise improves his arm strength and blood circulation in his legs.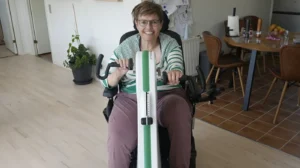 She finds it appealing as well. But it's exercising with a Lemco Mobility Combi Bike Plus that keeps Dorte Jensen in shape after two decades with multiple sclerosis.